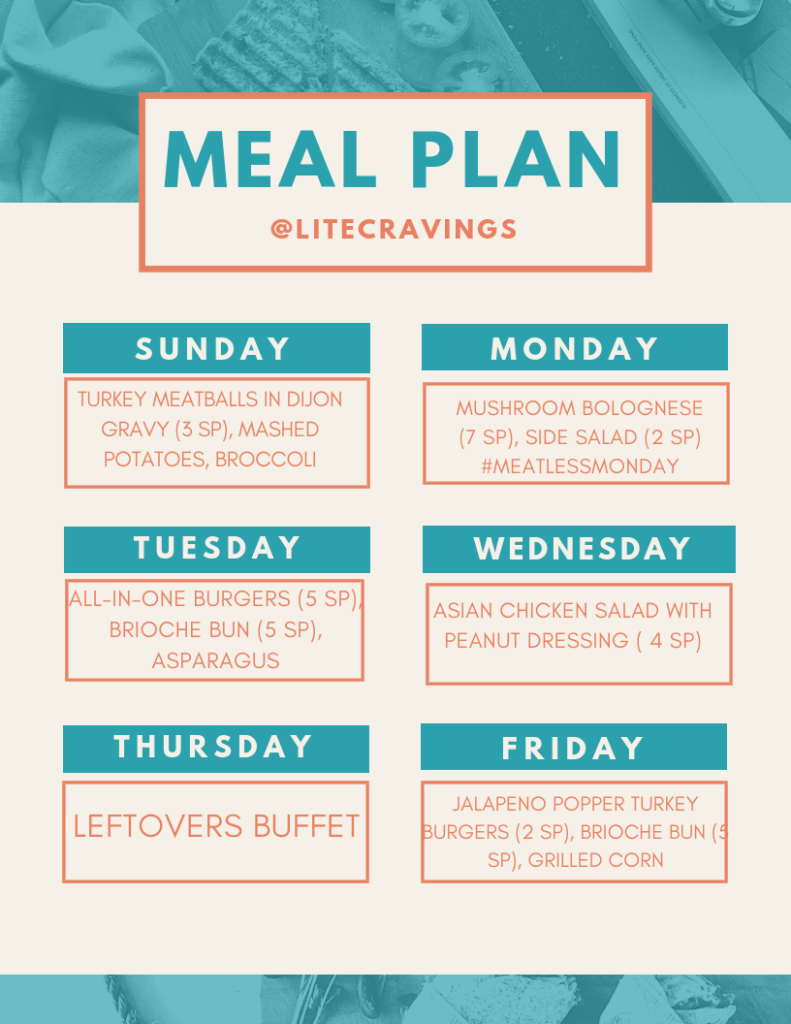 Goals for this week:
I was sooooo sick the entire week. Pretty much as soon as we left Vegas, it hit me. Because of that, I didn't have much of an appetite throughout the week and pretty much just ate soup instead of what I had planned out.
Today was the first time in a while that I actually had an appetite, so I'm excited for my menu for the week. I'm also testing out some new recipe that I hope work out so I can share with y'all.
And, yes–I'm having burgers twice this week. Lol. Jeff"s mom and stepdad are coming over on Friday, and they ALWAYS request those Jalapeno Popper Turkey Burgers. I'm happy to oblige because they are delicious, but also because they both swore turkey burgers were nasty before they tried them. I win! Bwahahaha.

Here's What I'm Eating This Week
Sunday: Turkey Meatballs in Dijon Gravy (3 SP), Lightened-Up Mashed Potatoes (4 SP), broccoli (0 SP)
Monday: Mushroom Bolognese (7 SP), side salad ( 2SP)
Tuesday: All-in-One Burgers (5 SP), brioche bun (5 SP), asparagus (0 SP)
Wednesday: Asian Chicken Salad with Peanut Dressing (4 SP)
Thursday: Leftovers Buffet
Friday: Jalapeno Popper Turkey Burgers (2 SP), brioche bun (5 SP), grilled corn (0 SP)