Fluffy, moist muffins that are mostly naturally sweetened, topped with a crunchy and sweet streusel. Perfect for breakfast on the go or a midday snack!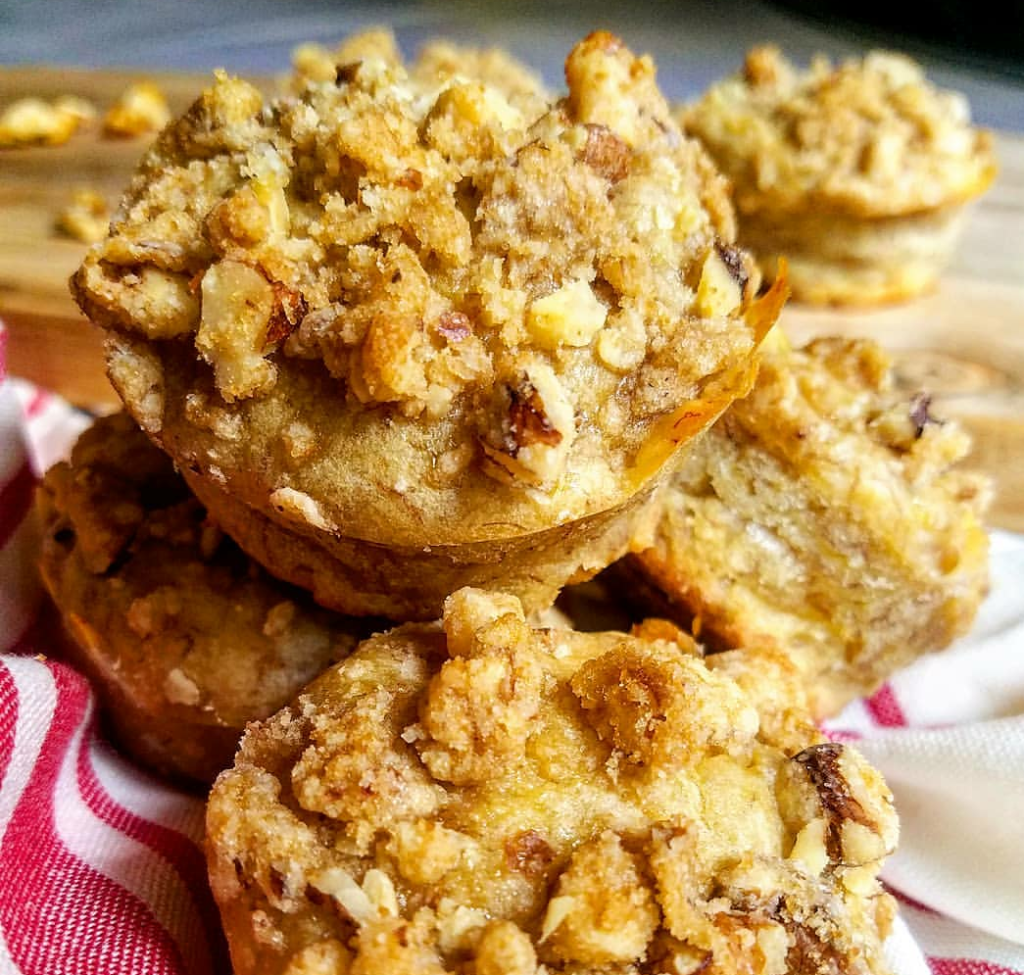 If you follow me on Instagram, you may know that I don't really eat breakfast. I practice intermittent fasting, which means that I only consume food for 7-8 hour increments. My "eating window" is 11am to usually about 6 or 7pm. Once 11 rolls around, I usually just eat my lunch leftovers and then snack a bit before dinner.
Lately, however, I've been feeling extra hungry in the mornings. I'm listening to my body, and that means that I need something small in the mornings to tide me over. Enter these delicious muffins! I can make a batch in about 40 minutes on the weekends and then just grab one in the morning on my way to work. They also freeze and reheat really well.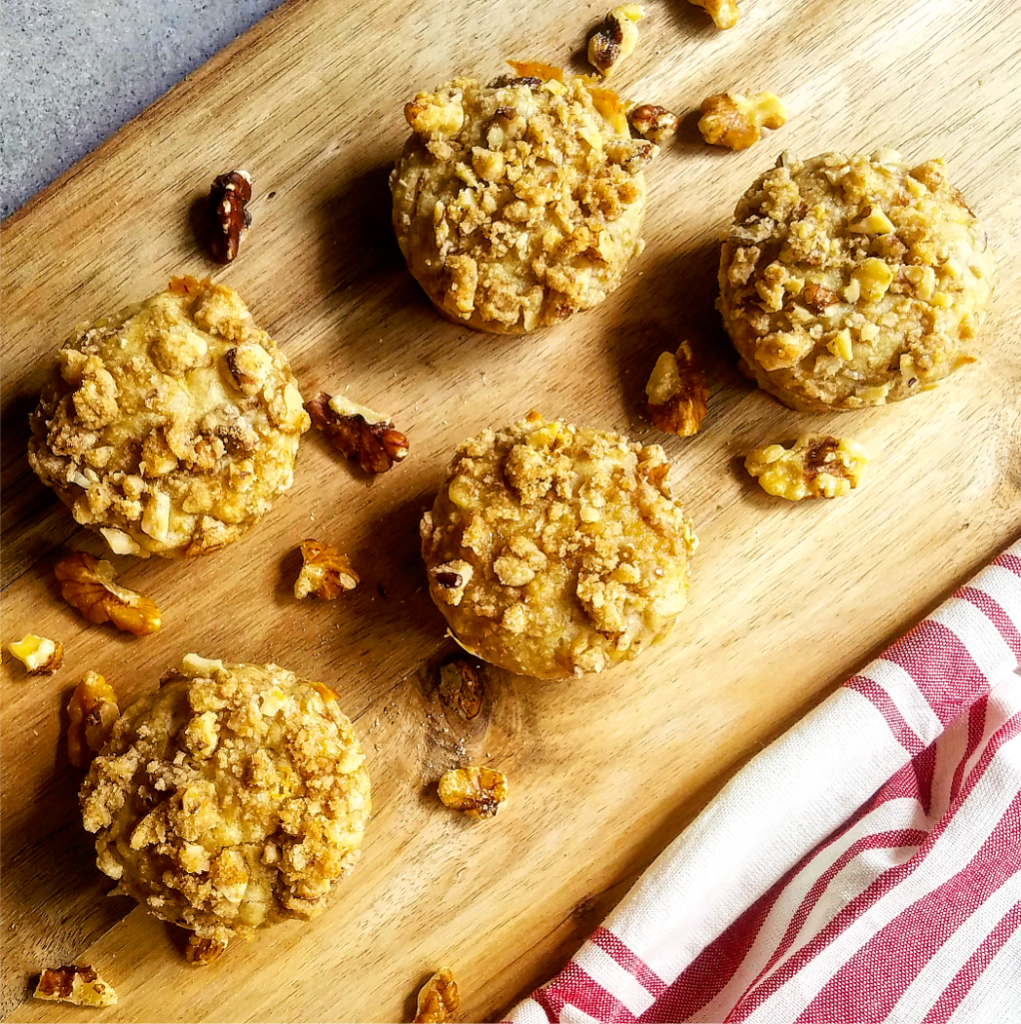 The sweetness factor
I already know I'm going to get questions about sweeteners. Yes, you could make this with Splenda or Stevia or whatever other brand of artificial sweetener you like, and it would lower the points and calories. I am just not a fan of those. I've tried them out in the past, but I don't react well to them. And the ingredient lists on some of those scare me a bit.
Instead of recreating an ultra-sweet flavor artificially, I've learned to cut back on real sugars in my recipes and enjoy the dialed-back sweetness. That means these muffins are definitely not as sweet as you might expect from a bakery muffin. I like that, though. Just a hint of sugar to satisfy a sweet tooth.
Check the labels on your LEAVENING agents
The fluffy texture of these muffins depends on using fresh baking powder and baking soda. If you have cartons of either of these products that have been sitting in your pantry for a while, you might want to buy fresh ones. If they are outdated, the muffins will be much more dense and gummy. Still delicious, but the texture might be a bit off.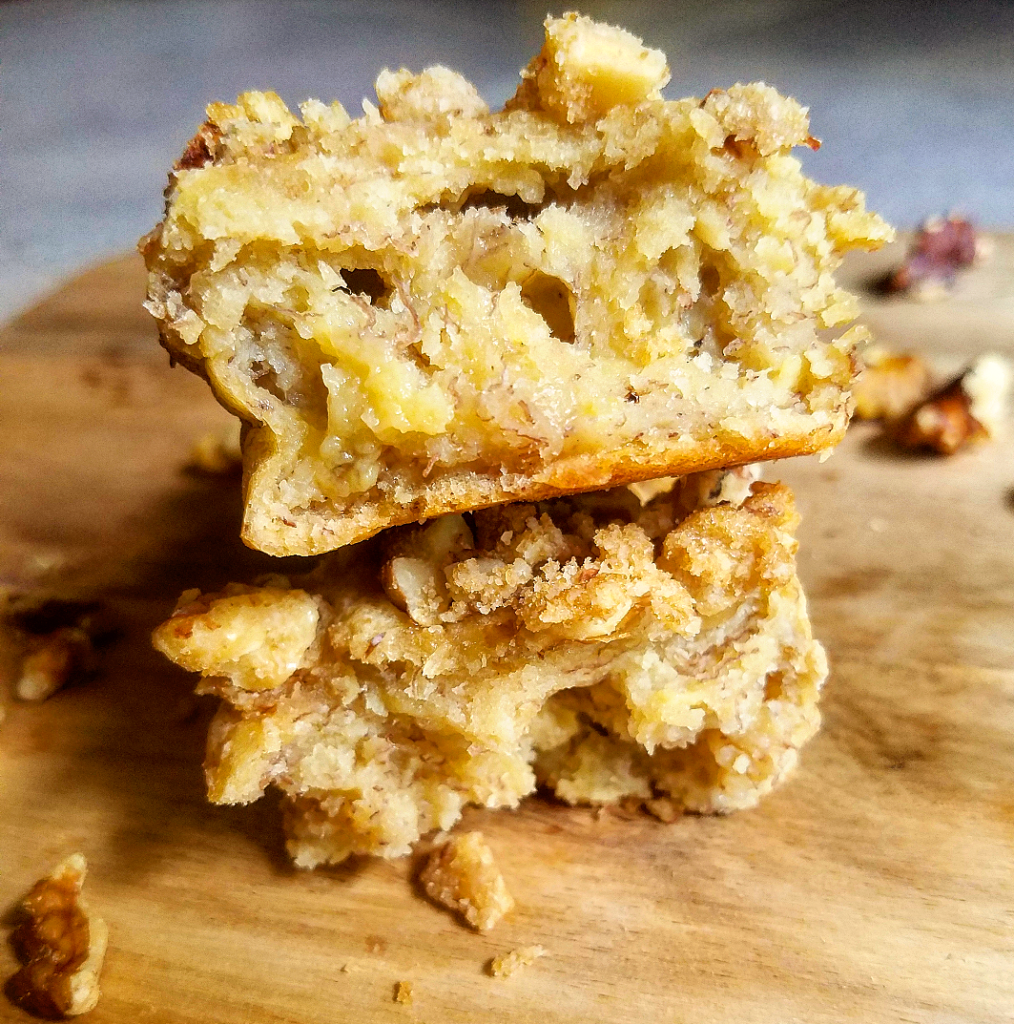 I'd love to hear from you if you make this recipe! It makes my day when you share your pics on Instagram and tag me (@litecravings). Don't forget to use #litecravingsrecipes to make sure I see it. If I don't get a chance to scroll through my tags quickly enough, I won't see your post. I always make a point to look through the hashtags, though. So I'll see it there!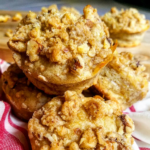 Print Recipe
Banana Walnut Crumb Muffins
Fluffy, moist muffins that are mostly naturally sweetened, topped with a crunchy and sweet streusel. Perfect for breakfast on the go or a midday snack!
Ingredients
1 1/2

cups + 2 tbsp

all-purpose flour, divided

1

tsp

baking powder

1

tsp

baking soda

1/2

tsp

kosher salt

1

tsp

cinnamon

3

tbsp

light butter, divided

7 1/2

tbsp

brown sugar, divided

1

egg

1/2

tsp

vanilla extract

1/3

cup

almond milk or nonfat milk

4

medium

mashed bananas (1 1/2 cups mashed)

1/4

cup

walnuts, chopped
Instructions
Preheat oven to 350ºF. Coat 12 muffin tins with cooking spray.

Beat together 2 tbsp light butter and 6 tbsp brown sugar. Beat in bananas, egg, vanilla, and milk.

In a separate bowl, whisk together flour, baking powder, baking soda, cinnamon, and salt.

Gently fold in flour mixture to banana mixture, being sure not to over mix.

Divide batter among muffin pans. In a small bowl, combine remaining 1 tbsp light butter, 2 tbsp flour, 1 1/2 tbsp brown sugar, and walnuts. Mix until butter is evenly distributed and mixture is crumbly.

Divide crumble mixture evenly among tops of muffins.

Bake until a toothpick inserted into center comes out clean, about 22-26 minutes. Let cool in pans for 10 minutes removing from muffin tins to cool completely.
Notes
WW Freestyle SmartPoints: 4 per muffin