These flavors are so deep and complex that you won't even miss the meat. The perfect way to sneak some veggies in on pasta night!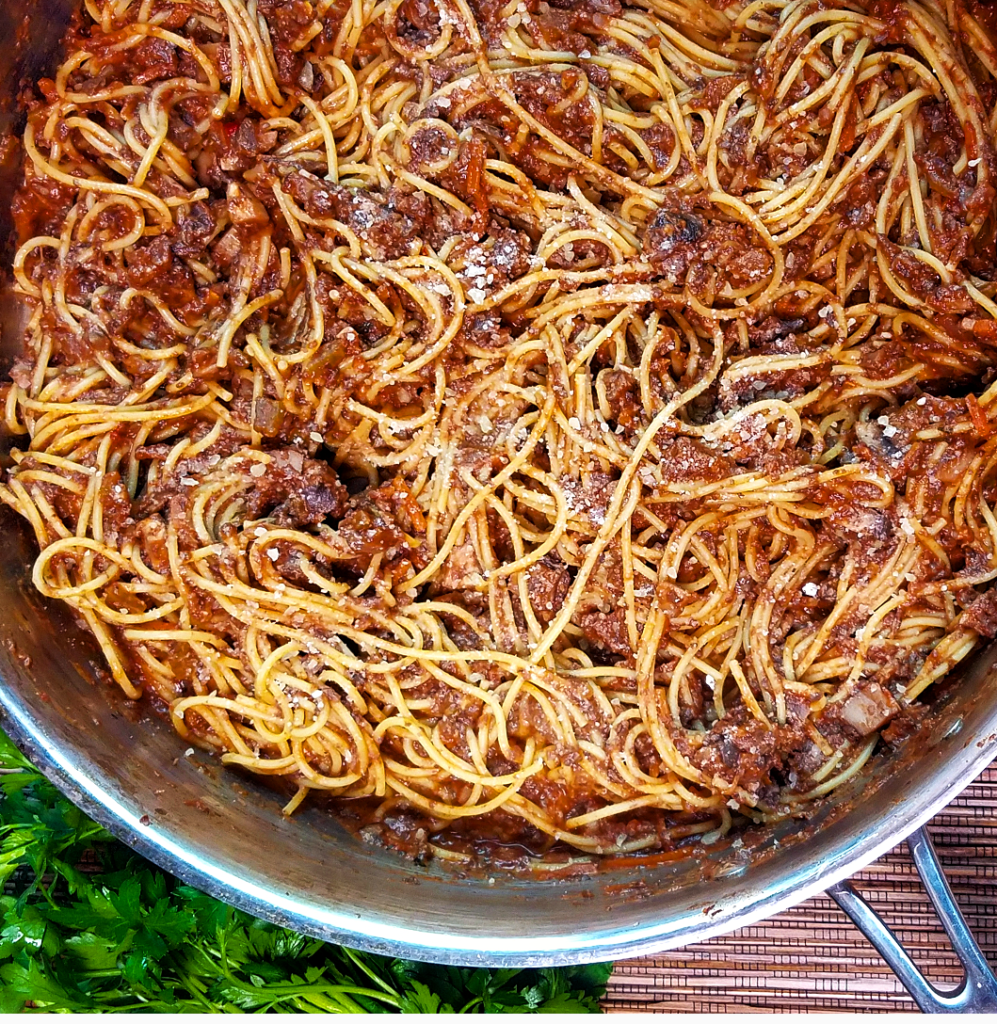 Meatless "Meat" Sauce
Bolognese has long been one of my favorite Italian dishes. Traditionally using a combination of beef and veal, this dish relies on meat braised in wine and finished with milk or cream. The result is a truly complex and hearty sauce.
But I don't eat veal anymore, and I'm trying to incorporate more vegetarian dishes into my rotation. So I thought mushrooms would be the prefect substitute, and they most definitely are! Since we're imparting tons of flavors into those mushrooms, they really do take on the taste and texture of actual meat. This rich and hearty without being too heavy. A true recipe makeover win!
They key to the texture it to get your mushrooms to mimic the texture of ground meat. To do this, I whizzed them up in my food processor. You could also finely chop them by hand, but you'll save a lot of time if you process them. They should look something like this when mixed with the other veggies and cook it all down a bit: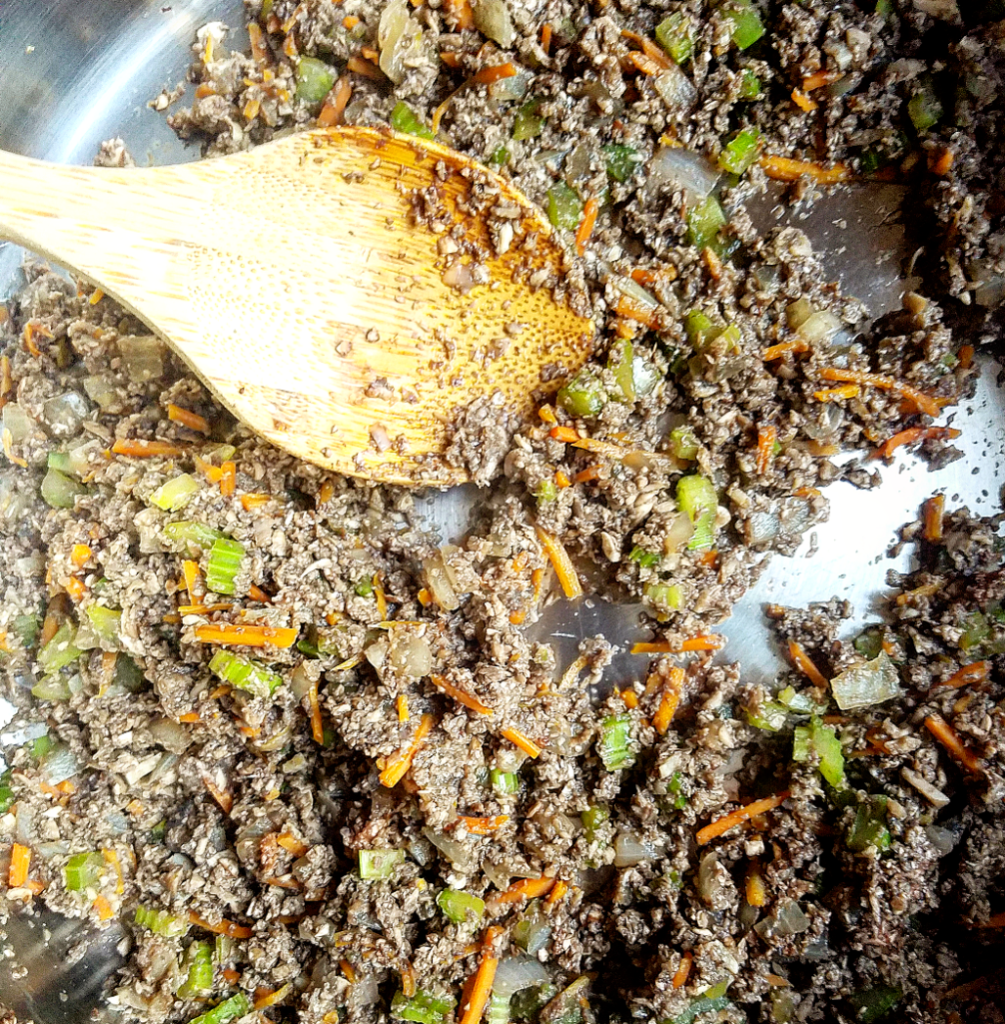 Then, you're going to add in some red wine for an extra layer of flavor. Use a dry wine, like Cabernet or Merlot. I really do think the wine is pretty crucial here, but if you're averse to wine, you could mix 1/4 cup balsamic vinegar with 1/4 cup of extra beef stock instead.
Once you get that wine nice and reduced, your mixture should look like this: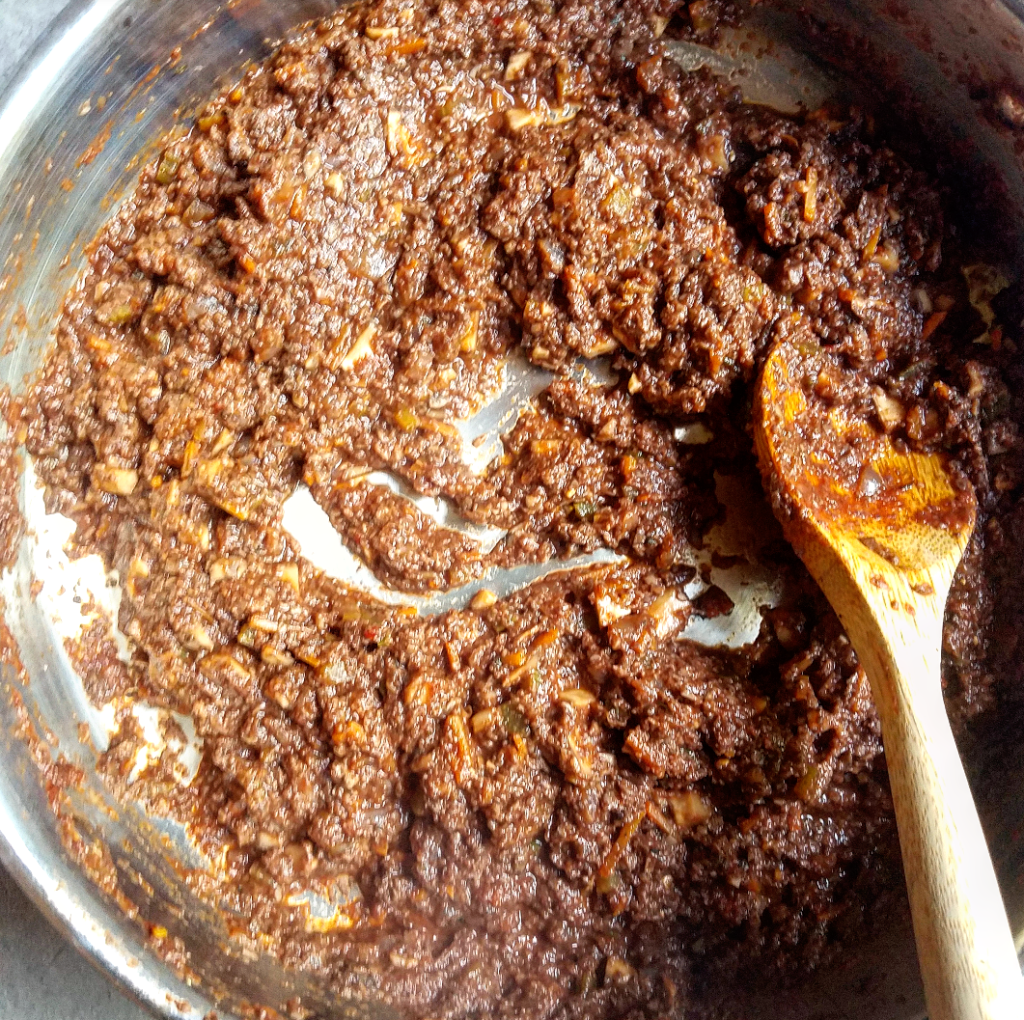 Now all you have to do is add in the half and half (full fat, please!), cheese, pasta cooking water, and pasta. Let everything meld together and then invite your mouth to the party. Don't forget to drink a glass of that leftover wine while you eat. Bon appetit!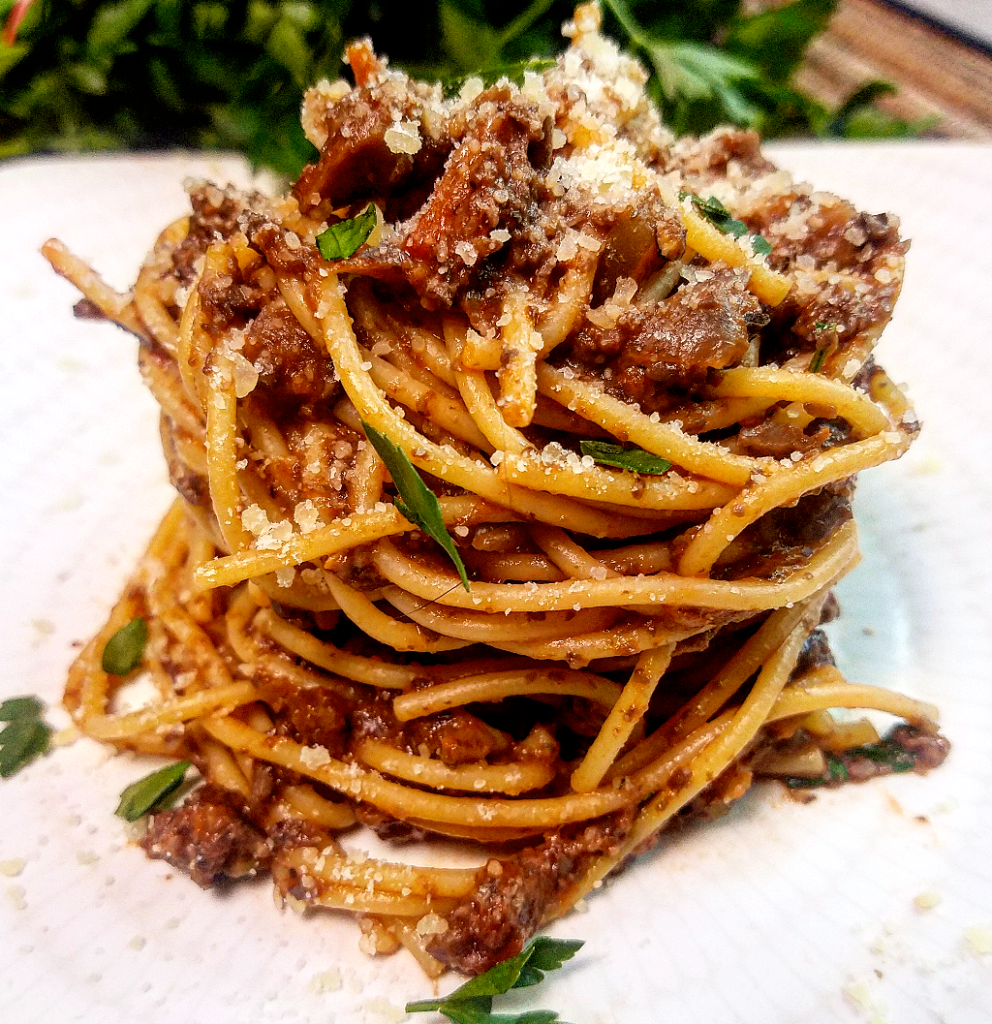 I'd love to hear from you if you make this recipe! It makes my day when you share your pics on Instagram and tag me (@litecravings). Don't forget to use #litecravingsrecipes to make sure I see it. If I don't get a chance to scroll through my tags quickly enough, I won't see your post. I always make a point to look through the hashtags, though. So I'll see it there!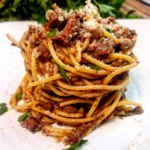 Print Recipe
Mushroom Bolognese
A vegetarian take on the classic Italian meat sauce, with flavors are so deep and complex that you won't even miss the meat. The perfect way to sneak some veggies in on pasta night!
Ingredients
8

ounces

whole-wheat or high-protein spaghetti, like Barilla Plus Protein

1/2

cup

minced celery (about 2-3 small stalks)

1/2

cup

shredded carrots (from about 1 medium carrot)

1

cup

minced onion (1 small onion)

2

cloves

garlic, minced

1

lb

crimini mushrooms, cleaned

2

medium portabello mushrooms, dark gills removed with a spoon

1/2

cup

dry red wine, like Cabernet or Merlot

1/2

tsp each

dried thyme, basil, and oregano

1/4

tsp

red pepper flakes and

15

oz can

tomato sauce

1

cup

beef stock (use veggie stock to keep it vegetarian)

1

tsp

Worcestershire sauce (use soy sauce instead to keep it vegetarian)

1/2

cup

half and half

1

cup

reserved pasta water

1/2

cup

grated parmesan cheese
Instructions
Over medium heat, add celery, carrots, onion, and garlic to a large skillet greased with nonstick cooking spray. Saute for about 5 minutes, or until veggies are soft but not brown.

Cook pasta in salted water according to package directions. Reserve 1 cup of pasta water before you drain it. Set pasta aside.

While veggies cook, add crimini mushrooms to a food processor on high until finely chopped. You want them to look similar to ground meat. You may need to do this in two batches, depending on the size of your processor.

Raise skillet temp to medium-high and add chopped criminis to skillet. Cook until most of the water has evaporated.

While mixture cooks, chop up portabello mushrooms into 1-inch chunks. I like to make them a little bigger for added texture, but chop them how you like. Add to the skillet and saute with everything else for about 4 minutes, or until slightly softened.

Add in wine and all spices. Cook until all of the liquid has evaporated into the mushroom mixture, stirring constantly–about 5-8 minutes.

Once skillet is pretty dry again, add in tomato sauce, stock, and Worcestershire sauce. Simmer until reduced, about 10 minutes.

Finally, add in half and half. Cook down for 2-3 minutes, then take off heat. Add in pasta along with a few splashes of reserved pasta water at a time until you reach your desired consistency. I usually end up adding 1/2- 3/4 cup of the pasta water.

Taste, adjusting seasonings as needed.
Notes
WW Freestyle SmartPoints: 6 for 1 1/4 cups