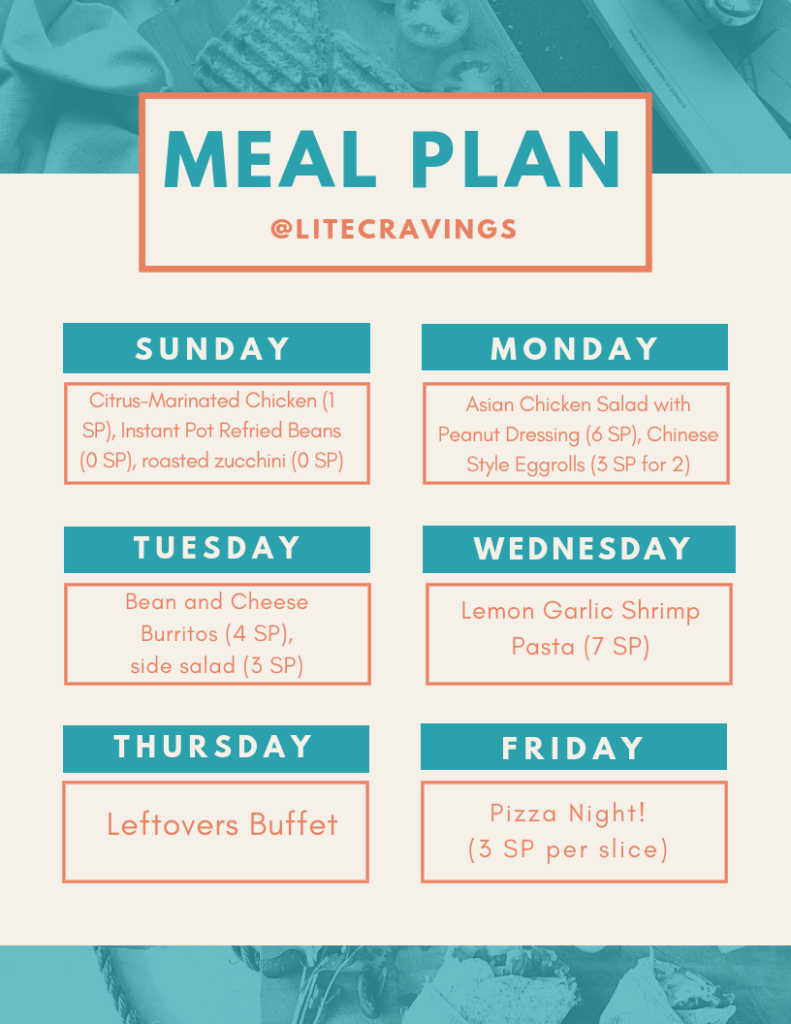 Hi there! I hope you had a wonderful week. It's about that time to start looking towards next week. I have a pretty crazy schedule Monday-Wed, so going in with a plan for my meals is going to be especially important.
I'm doing some big-batch cooking today so I can use the leftovers to throw together dinners on Monday and Tuesday in about 10 minutes. I herniated my chicken last night, so all I have to do today is grill it. And the beans are the easiest thing I make–just throw it all in the Instant Pot and let it do its thing.
I get a lot of questions about what I do for breakfast and lunch. I mostly don't eat breakfast because of Intermittent Fasting. My eating window opens up at 11am, so I will usually just eat leftovers from dinner the night before. If I do eat breakfast, it's usually Dannon Light & Fit Coconut Vanilla Greek Yogurt (2 SP) with some fruit on the side. And if I don't have enough leftovers for lunch or just don't feel like eating them, I keep a pack of sandwich thins (3 SP) and roasted turkey breast slices (0 SP) on hand to make sandwiches. I hope that helps!
Sunday: Citrus-Marinated Chicken (1 SP), Easiest Refried Beans, zucchini
I marinated 3 lbs of chicken to use throughout the week.
Monday: Asian Chicken Salad with Peanut Dressing (6 SP), Chinese-Style Egg Rolls (2 for 3 SP)
Using leftover chicken from yesterday instead.
I'm also doubling the amount of coleslaw mix in the egg rolls recipe and omitting the meat.
Tuesday: Bean and Cheese Burritos (4 SP), salad (3 SP)
For the burritos, I'll use leftover refried beans from Sunday, 1/4 cup Trader Joe's Lite Mexican shredded blend cheese (2 SP), and an Ole Extreme Wellness wrap. You could use any 1 SP wrap. The salad will just be a bagged mix that I pick up at TJ's.
Wednesday: Lemon Garlic Shrimp Pasta (7 SP)
Thursday: Leftovers Buffet
Friday: Pizza Night! 3 SP per slice. I'll use my favorite pizza dough recipe, of course. There are directions in that recipe for making a pepperoni pizza, but we're going to do chicken sausage and jalapeno this time. If it comes out yummy, I'll share the recipe soon!