Hey y'all! I haven't posted a menu/meal plan in about two weeks because I needed to hold off on posting new content as my website as being updated. To be honest, I even neglected menu planning on my own because of the stress of working on the update while working full time.
Why am I always so quick to neglect my health and wellness during stressful moments? My first priority should ave been menu planning since I was so busy!
No need to beat myself up. This is a new week, and I'm ready to tackle it with my food already planned out.
Many of you ask what I do for breakfast and lunch. I practice intermittent fasting, so I don't eat breakfast. I just drink coffee or tea with a little bit of almond milk in it, and lots of water. If you'd like to hear more about my intermittent fasting, let me know and I'll write about it for ya.
Lunches are usually leftovers from my menu plans. It's just Jeff and I here, so we have lots of yummy foods to eat through for lunches and Leftover Buffet. That makes my planning so much easier and cheaper–no extra money spent on breakfast and lunch.
Snacks are usually fruit or vegetables. I also keep light string cheese on hand, along with tortilla chips or crackers.
I hope you have a fantastic week full of delicious food and mindful eating!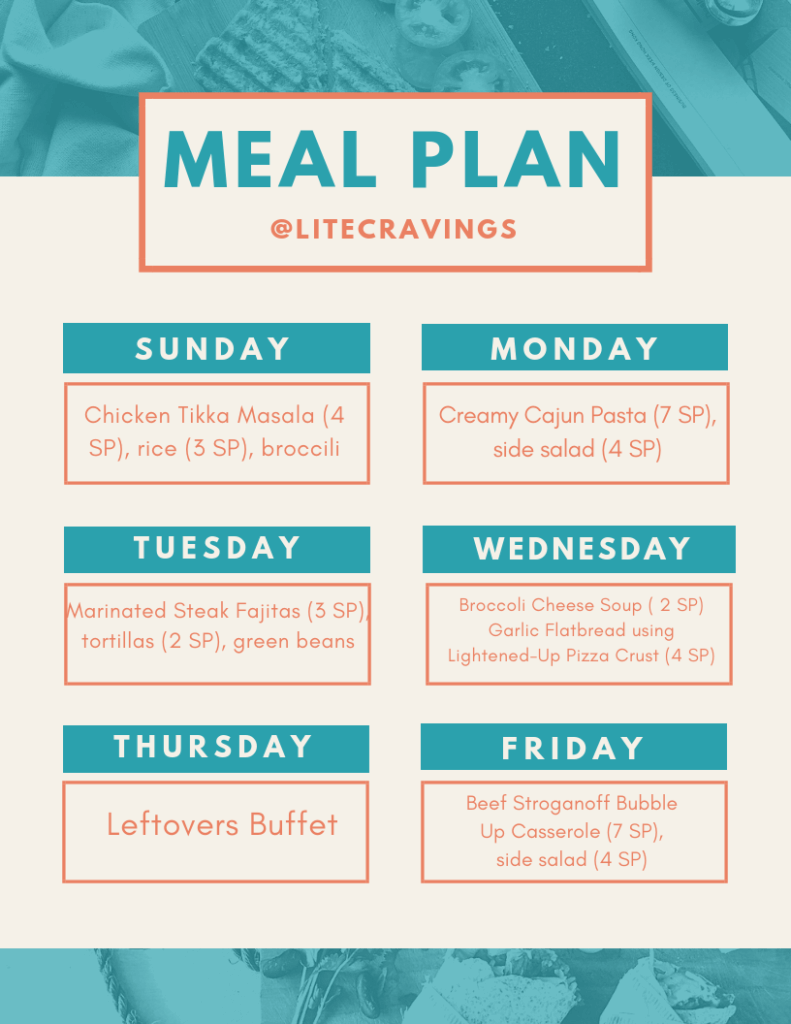 Sunday: Chicken Tikka Masala, rice, broccoli–already made this tonight, and it was even better than the first time! I am obsessed with this recipe.
Monday: Creamy Cajun Pasta using just chicken because that's what was on sale this week, and a side salad mix from the store
Tuesday: Marinated Steak Fajitas, 1 SP tortillas (I like the Ole Extreme Wellness Wraps), green beans. I'm actually going to dinner with friends this night, but everything will be prepped ahead of time for Jeff to make it on his own. That way I can have leftovers for lunch on Wednesday, too.
Wednesday: Broccoli Cheese Soup, Garlic Cheese bread using the Lightened Up Pizza Crust
Thursday: Leftovers Buffet
Friday: Beef Stroganoff Bubble Up, side salad mix from the grocery store