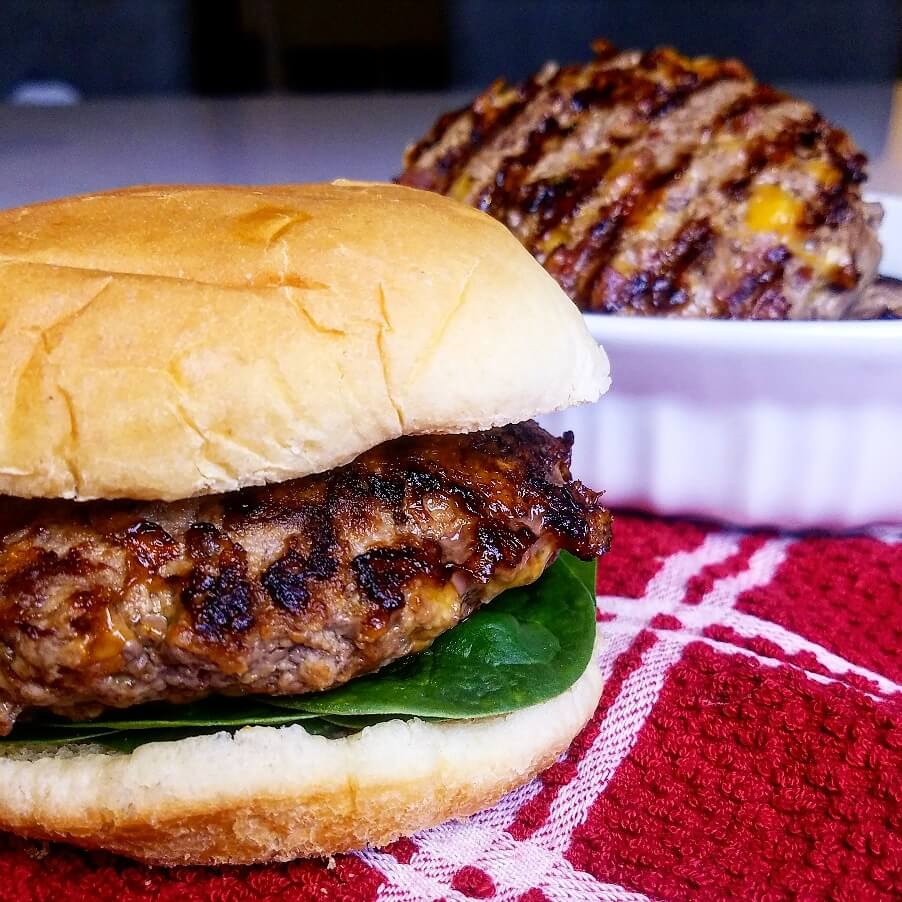 If you didn't know already, burgers are a big deal in this house. It's by far Jeff's favorite food (well, tacos are a close second).While I have created some pretty fantastic alternatives at home, like my Jalapeno Popper Turkey Burgers and Chicken Bacon Ranch Burgers, I have struggled to lighten up Jeff's ultimate choice–a bacon cheeseburger.
A large bacon cheeseburger clocks in at 20 SmartPoints! That's fine for a special treat every once in a while, but I wanted one that we could eat pretty regularly at home. The problem is that extra lean ground beef (96/4) on its own is pretty dry and flavorless. I've tried multiple iterations and failed every time–until I remembered an old America's Test Kitchen recipe that always intrigued me. I get so many recipes ideas from those folks.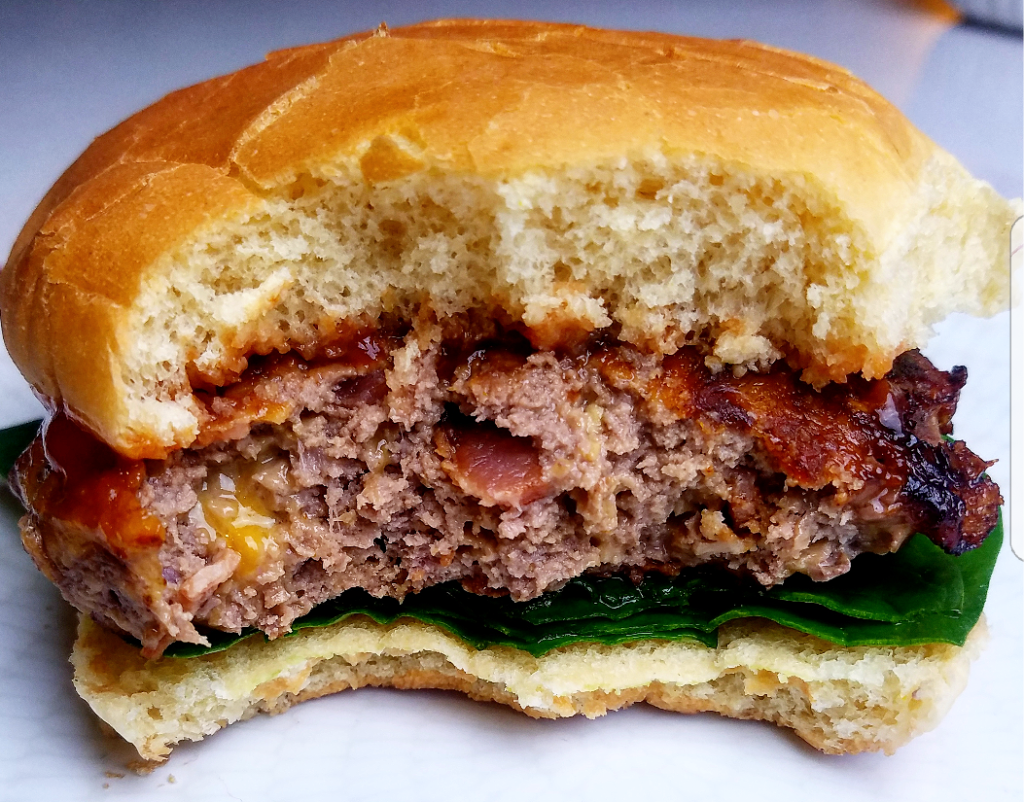 All-In-One burgers are pretty genius. You incorporate your traditional bacon cheeseburger topping into the meat mixture, ensuring that you'll get cheesy bacon goodness in every bite. This technique adds moisture and flavor to that extra lean beef, and you'll get a terrifically browned crust from all of that cheese.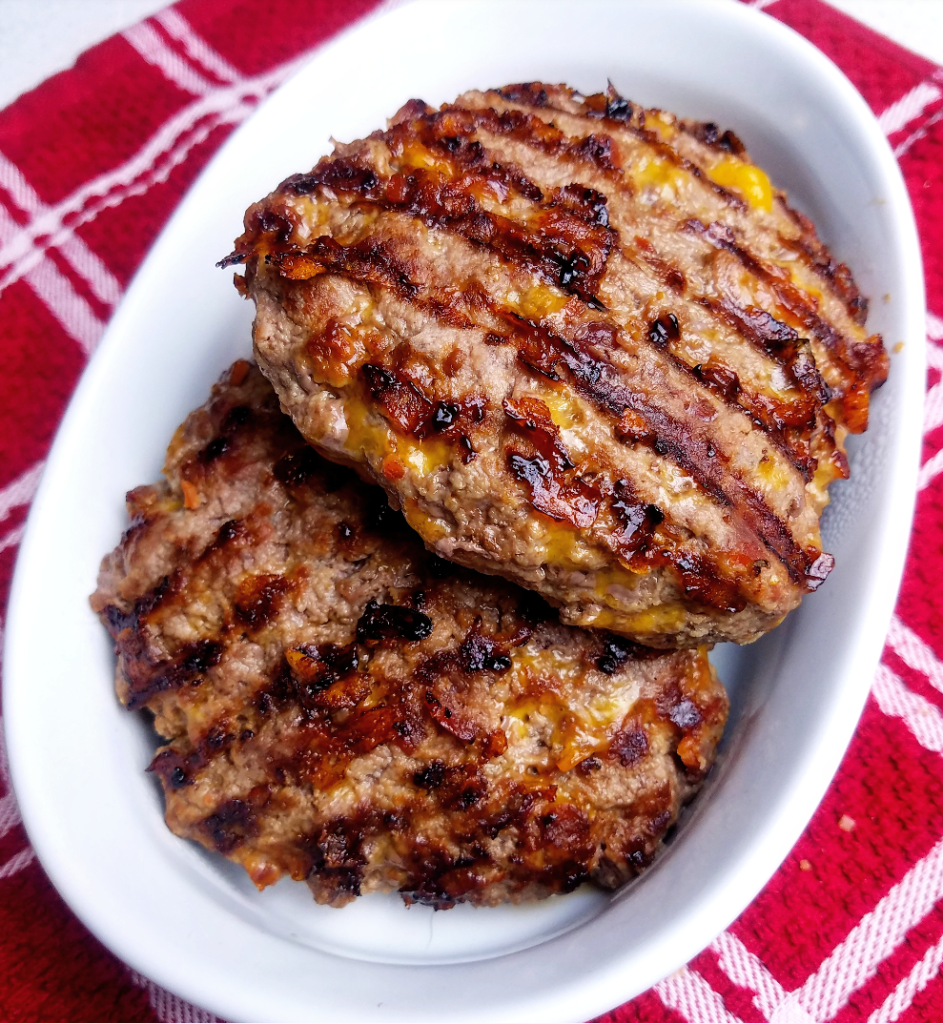 Now, lets talk overall points. The patty itself is 5 SP, and you won't need many toppings other than some crunchy lettuce, reduced-fat ketchup, and maybe tomatoes. But the bun is the other points demon here.
If you have a Safeway, Vons, or Alberstons nearby, you can purchase the Safeway Select brand buns–either sesame or whole wheat. They are 3 SP each and pretty hardy. I've also seen talk of "light" hamburger buns for 2 SP, but I can never find those in my locals stores. If all else fails, Ballpark buns are 4 SP each and available at just about any store across the country. No matter what you chose, you'll have yourself a bacon cheeseburger with bun for anywhere from 7-9 SP. That's more than HALF of the points of something you'd get at a restaurant.
Can we start looking forward to summer yet? I'm already thinking of these for BBQ parties with family and friends. They'll have no idea they're eating a lighter version of the classic!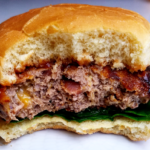 Print Recipe
All-In-One Burgers
All of the classic bacon cheeseburger flavors in one patty make for an easy, juicy, and mind-blowingly flavorful lightened-up burger!
Ingredients
6

strips

reduced fat center-cut bacon, cooked and chopped

1

lb

extra lean ground beef

(96 lean/ 4 fat)

2/3

cup

reduced-fat sharp Cheddar, shredded

1/2

small red onion,

grated or finely chopped

(about 1/2 cup)

1

tbsp

yellow mustard

1 1/2

tsp

Worcestershire sauce

1/2

tsp

kosher salt

1/4

tsp

ground black pepper
Instructions
Mix all ingredients together in a medium bowl.

Divide mixture into 4 equal portions, then form into 1-inch thick patties. Make them thinner than you think; they will shrink up and get thicker as they cook.


Heat a grill or large skillet over medium-high heat. Cook each side for about 4-6 minutes, or until a dark brown crust forms.

Let rest for 5 minutes, then serve with your favorite bun and toppings.
Notes
  WW Freestyle Smartpoints: 5 for each patty. *See blog notes for SP breakdown with bun and topping choices.