A super simple summer classic that satisfies the entire family. All of the flavor comes from a 10-minute BBQ sauce that will have you licking your plate!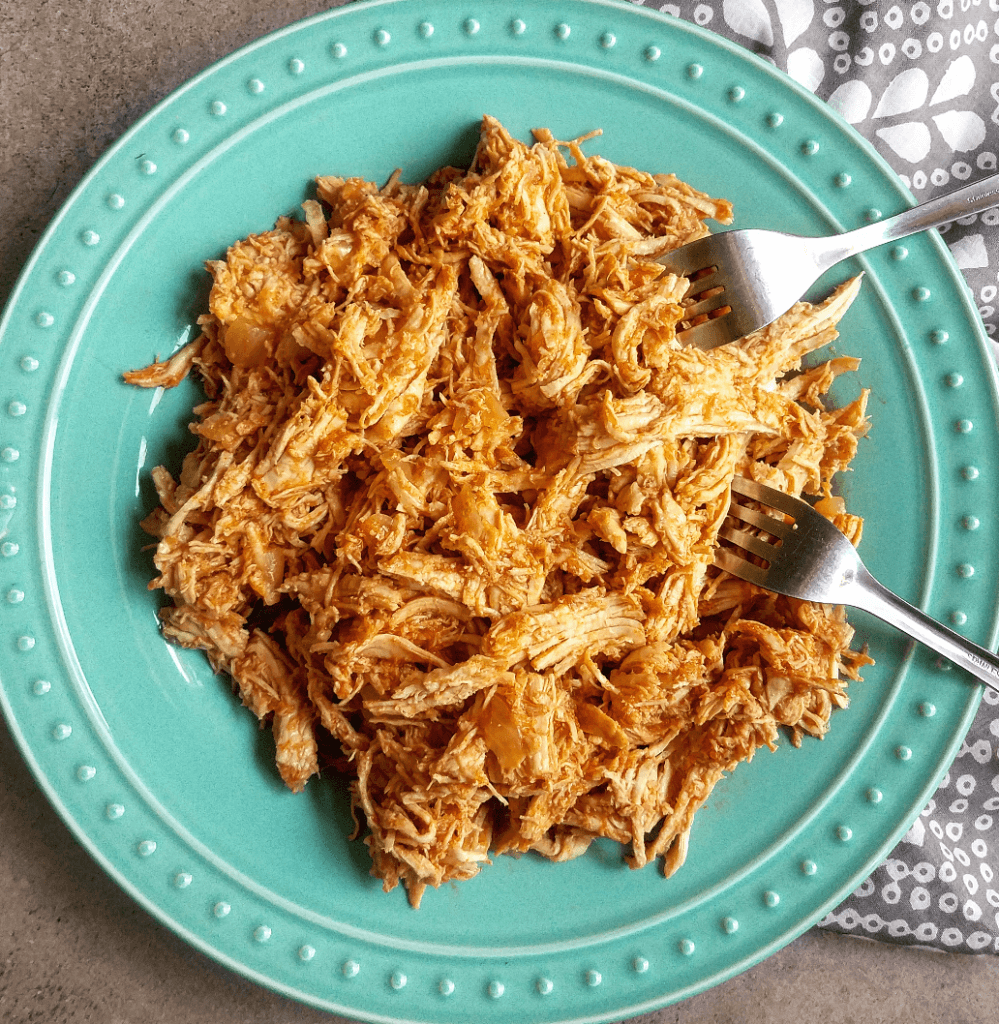 I've been making my 0 SmartPoint Naturally-Sweetened BBQ Sauce for years now. It's always a crowd-pleaser: smoky, tangy, and just the right mount of sweetness. Many bottled BBQ sauce tend to be too sweet for my taste, and they end up being really high in points. I'm not a fan of artificial sweeteners either, so the sugar-free versions aren't my favorite.
I typically use the sauce to top grilled chicken, but I wanted a no-fuss alternative with the same great flavor. This pulled chicken is even better. It gets so tender and juicy. Plus, you'll have extra BBQ sauce to add on top. All for 0 SmartPoints!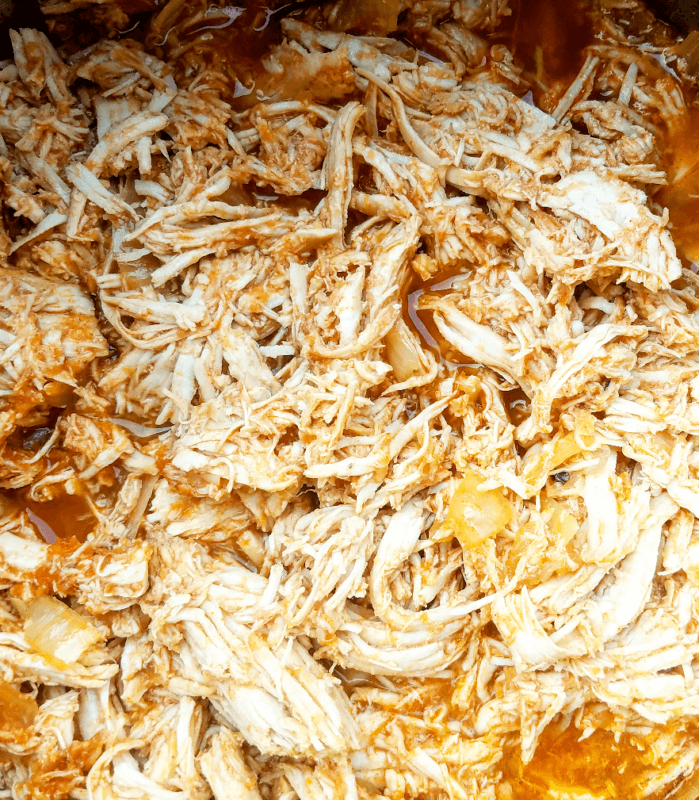 Cooking Methods
I've included cooking methods for both Instant Pot and slow cooker methods to giver you some flexibility. If I'm going to have guests over or want to make this to take to a BBQ, I like to make it in the slow cooker for easier transfer and serving. I like the Instant Pot method for a quicker weeknight options. Or, more frequently, if I forgot to set the slow cooker earlier in the day. 🙂
Honestly, you could probably even do this on the stove top, though I haven't tried that out. I would think simmering in the sauce for about 30-45 minutes would do the trick. Let me know if you try it that way.
Serving options
You could definitely go the classic route and serve this on a bun with some Easy Coleslaw. In fact, that's my favorite sandwich of all time.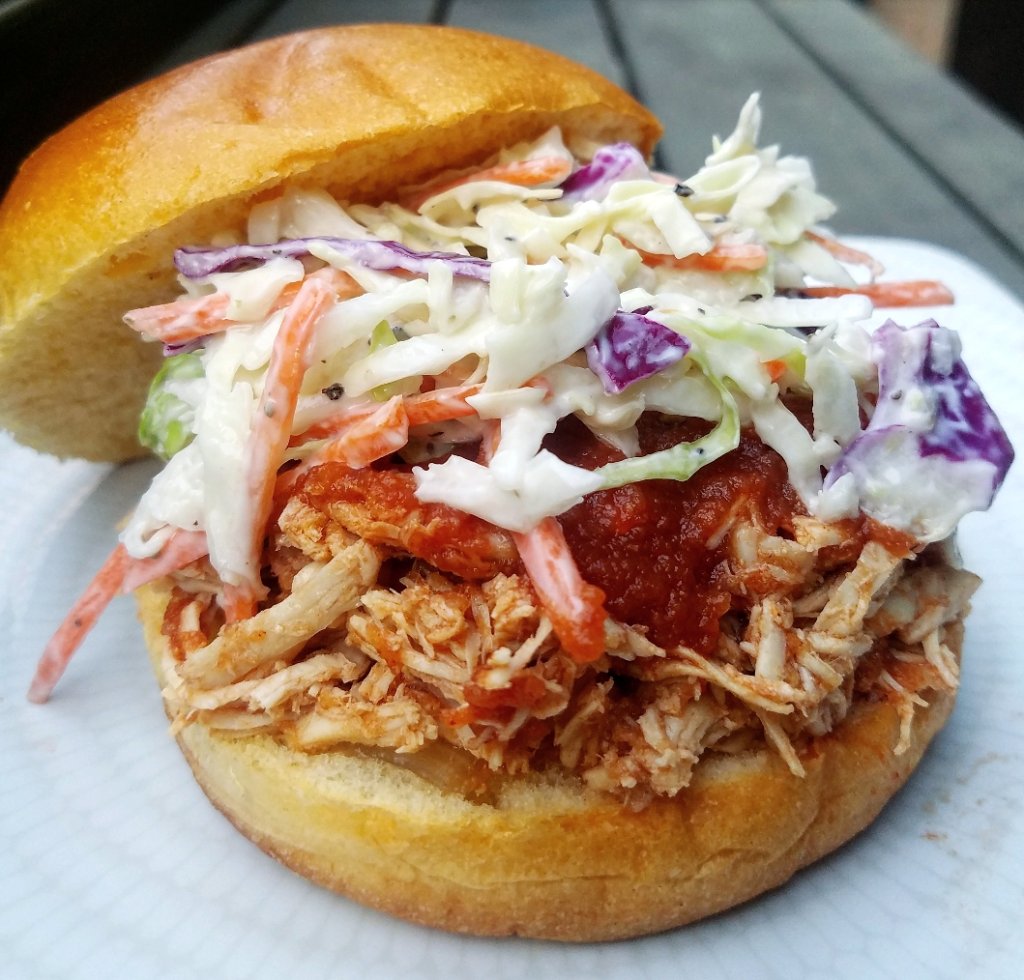 But don't think you're stuck with sandwiches all week. Since I only use about half of the BBQ sauce to cook the chicken, the result is a very subtle BBQ flavor. I like doing this so I can use it in other dishes that call for pre-shredded chicken like my Cheesy Chicken Tamale Bake
or Lazy Chicken Fried Rice. The chicken is also great on top of a baked potato, in nachos or quesadillas… there really are so many options.
I'd love to hear from you if you make this recipe! It makes my day when you share your pics on Instagram and tag me (@litecravings). Don't forget to use #litecravingsrecipes to make sure I see it. If I don't get a chance to scroll through my tags quickly enough, I won't see your post. I always make a point to look through the hashtags, though. So I'll see it there!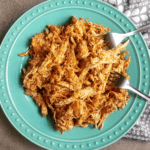 Print Recipe
BBQ Pulled Chicken
Smoky, tangy, and slightly sweet–no one believe that this BBQ crow-please is only 0 SmartPoints a serving!
Ingredients
2

lbs

boneless, skinless chicken breast (about 4 medium)

1

onion, sliced

3

cloves

garlic, minced

3/4

tsp

kosher salt

1/2

tsp

black pepper

1/2

tsp

red pepper flakes (optional if you like a little kick)

1

cup

Naturally Sweetened BBQ Sauce
Instructions
Prepare BBQ sauce. While sauce is simmering for 10 minutes, cut your onion and garlic.
Slow Cooker Instructions
Grease insert with nonstick cooking spray. Layer onions and garlic first, then top with chicken. Season chicken with all spices, then top with 1 cup BBQ sauce.

Cover and cook on high for 3-4 hours or on low for 6-7 hours. Shred with forks and drain a bit if there is a lot of excess liquid.

To serve, add more BBQ sauce on top.
Pressure Cooker Instructions
Grease insert with nonstick cooking spray. Mix together 1/3 cup of water and 1/2 cup of your sauce in the bottom of the insert, then add chicken.

Season chicken with spices. Scatter onions and garlic on top of chicken, then drizzle with another 1/2 cup of sauce.

Close lid, making sure the pressure cooker is sealed. Pressure cook 20 minutes, then quick release until the steam is gone.

Shred with forks and drain a bit if there is a lot of excess liquid. To serve, add more BBQ sauce on top.
Notes
WW Freestyle SmartPoints: 0 for 1/2 cup