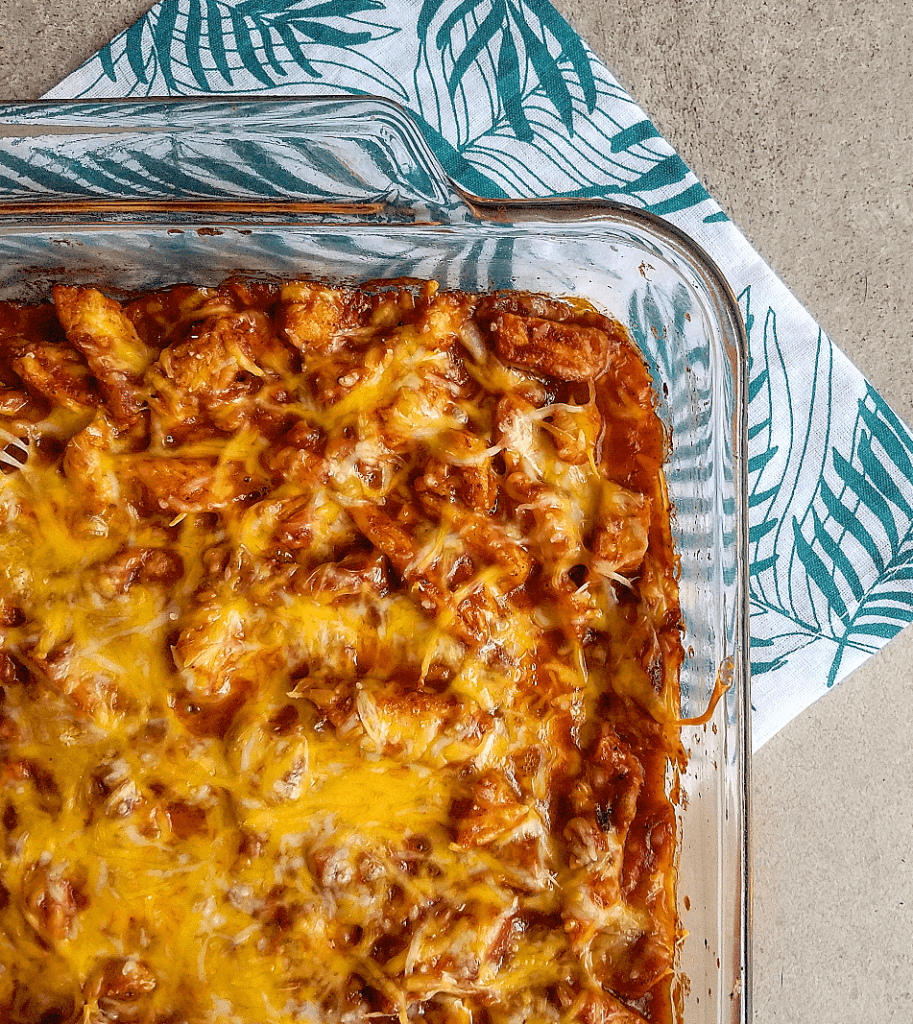 I'm always looking for an easy and hearty weeknight meal. If it can double as meal prep for lunches throughout the week, even better! This casserole definitely checks all of the boxes, and the depth of flavor is crazy given how little effort you actually need to put in to it. Just whip up a quick cornbread batter, bake, and then top with chicken that is tossed in a quick, homemade enchilada sauce. Don't forget to top with lots of cheese. The perfect spicy and sweet combo with a Mexican twist!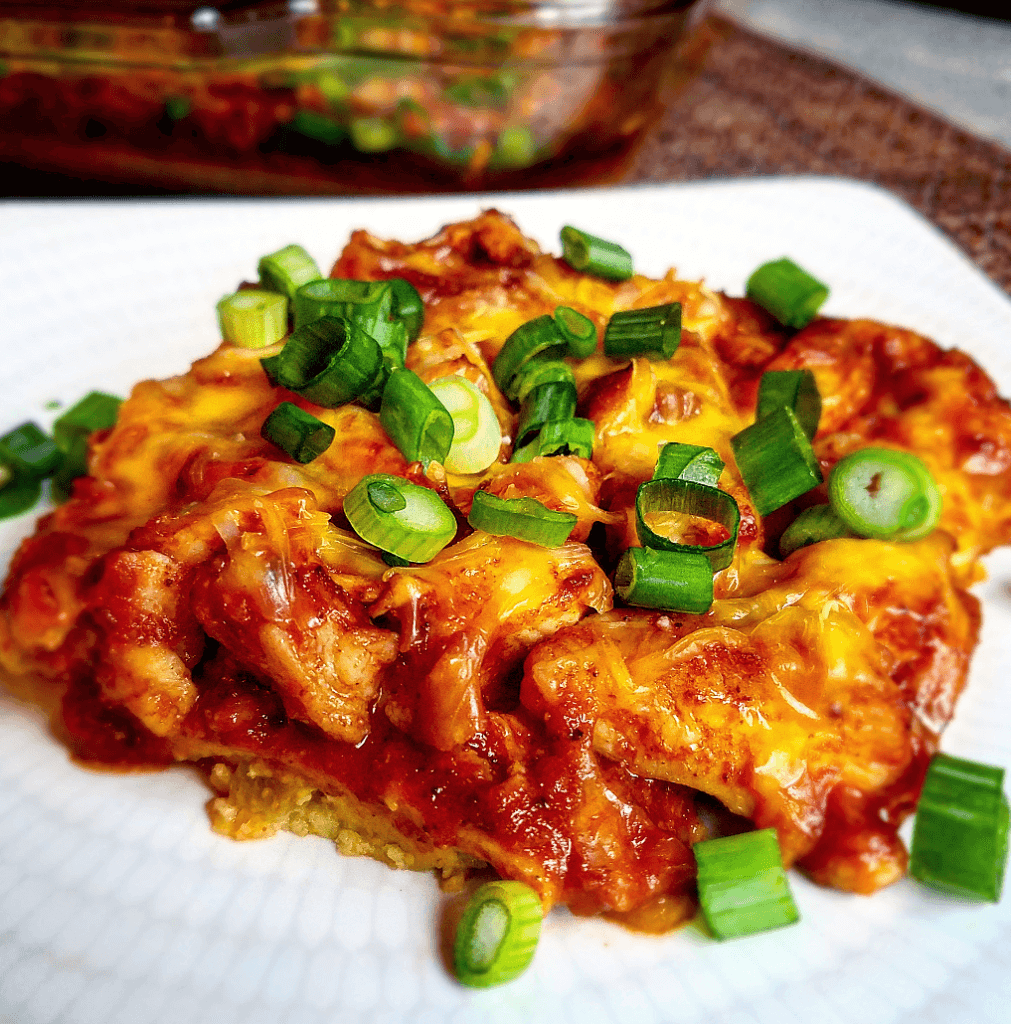 Jeff loves alllll of the Mexican food. His family is Mexican, and tamales are a big deal for them. Christmas Eve didn't even happen if tamale's weren't on the table. So I knew I had a winner the first time I made this dish wen he raved about each bite, then has requested it almost weekly ever since.
Now, there is NOTHING authentic about this recipe at all, but it does hit all of the tamale flavor notes without the labor of making your own masa, grinding dried chilies for the sauce, cooking your own chicken, wrapping everything in corn husks. etc. I've done all of that before and love the process, but it takes hours to make good tamales. This casserole takes just about 45 minutes, and most of that is just time in the oven.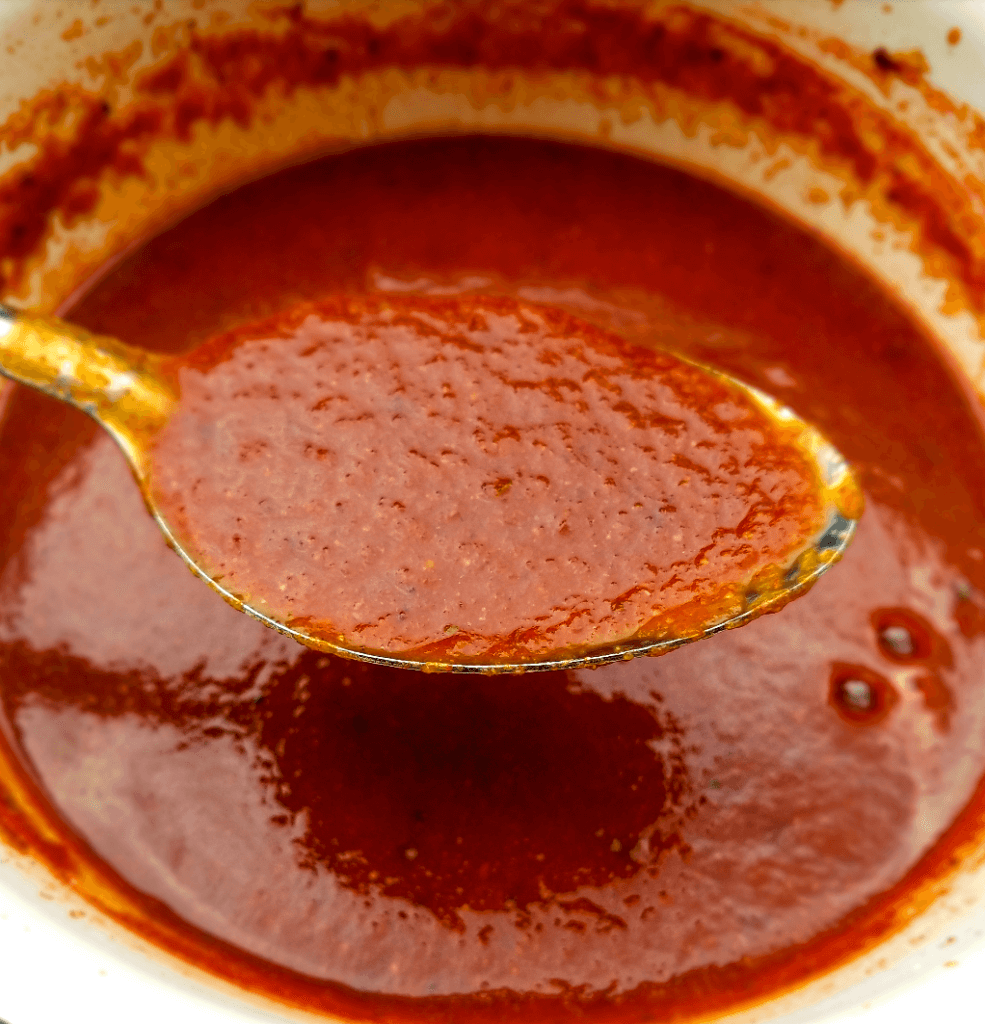 There are a lot of tamale bake recipes out there, but most that I've seen use canned enchilada sauce and boxed cornbread mixes. There is nothing wrong with taking some shortcuts here and there, but it is seriously SO easy to make homemade versions of both of them.
This also allows you the opportunity to make the entire casserole gluten free. Did you know that most canned enchilada sauces include flour? I don't think it's really that necessary. Other than that, just use gluten-free AP flour in the cornbread mixture. I've tried it this way, and it's just as good.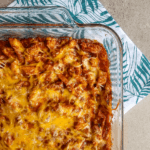 Print Recipe
Cheesy Chicken Tamale Bake
A quick casserole that hits all of the right tamale notes–sweet and spicy perfection!
Ingredients
Cornbread Base
3/4

cup

yellow cornmeal

3/4

cup

all-purpose flour

1

tsp

baking powder

2

tbsp

granulated sugar

1

cup

plain, unsweetened almond milk

1

large egg

4

oz

can diced green chilis

1/4

tsp

kosher salt

1 1/3

cup

reduced fat, shredded sharp cheddar cheese, divided
Enchilada Sauce/Chicken Mixture
1

cup

canned tomato sauce

2

tbsp

chili powder (if you want it mild, use 1 tbsp chili powder and 1 tbsp paprika)

1

tsp

garlic powder

1

tsp

onion powder

1/2

tsp

ground cumin

1/2

tsp

dried oregano

1/2

tsp

kosher salt

1/2

cup

water

2

lbs

cooked, shredded chicken breast (about 3 cups)
Instructions
Preheat oven to 400 degrees. Coast a 9×13 casserole dish with nonstick cooking spray.

In a medium-sized bowl, combine all dry cornbread ingredients. In a small bowl, whisk together wet ingredients and 1/3 cup of cheese. Add wet to dry and mix until just smooth, then fold in green chilis.

Pour cornbread mixture into prepared casserole dish. Bake until you can insert a toothpick and it comes out clean, about 15-20 minutes. Poke holes a few holes in the cornbread so the sauce can get in there a bit.

While the cornbread is cooking, bring all enchilada sauce ingredients (except for the chicken) to a boil in a sauce pan, then simmer. Continue to simmer until sauce has slightly thickened, about 10 minutes.

When sauce is done, toss with cooked chicken. Spread sauce/chicken mixture evenly over the cooked cornbread. Top with remaining 1 cup cheese. Return to oven and cook until sauce is bubbling and cheese has melted, about 20-25 minutes.
Notes
  WW Freestyle SmartPoints: 7 for 1/6 of the casserole