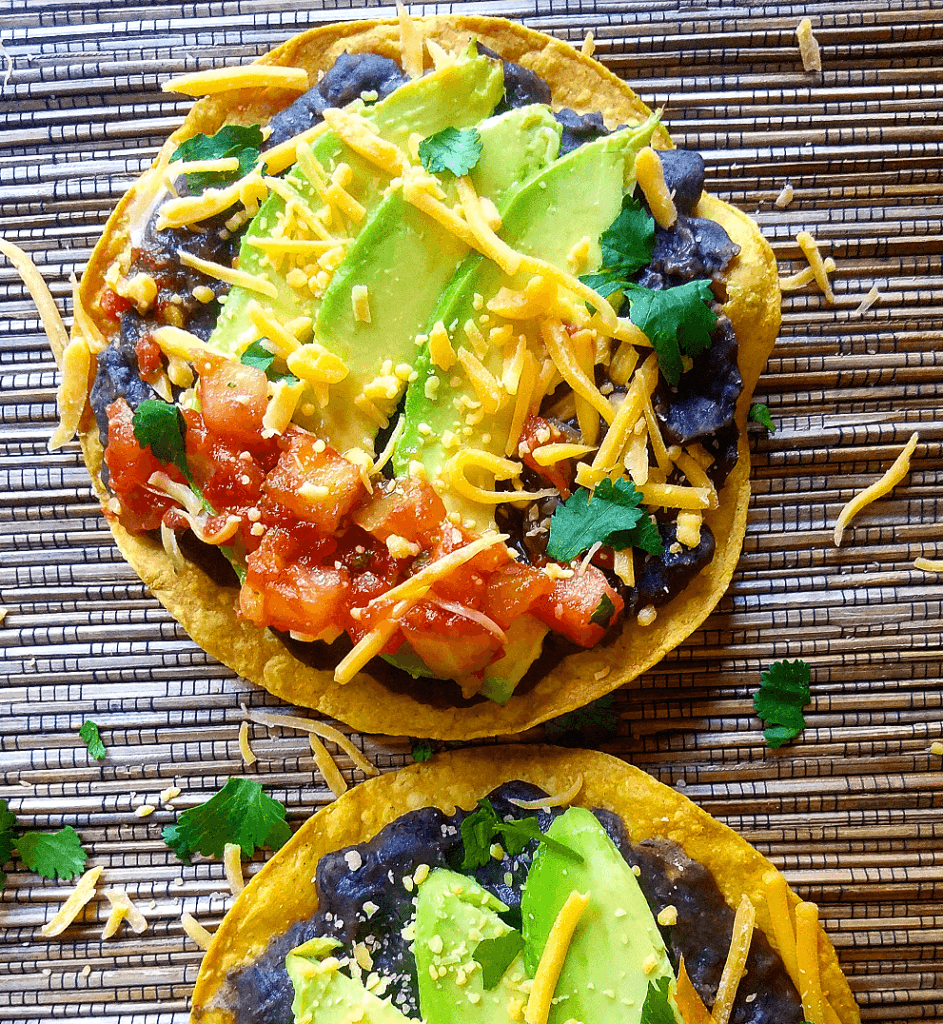 Put a vegetarian spin on your Taco Tuesday plans with these delicious and super easy Black Bean and Avocado Tostadas. If you make the refried beans and tostada shells ahead of time, you don't have to cook a thing the night you want to make these. Just assemble everything with your favorite toppings, and dinner is ready in about 10 minutes!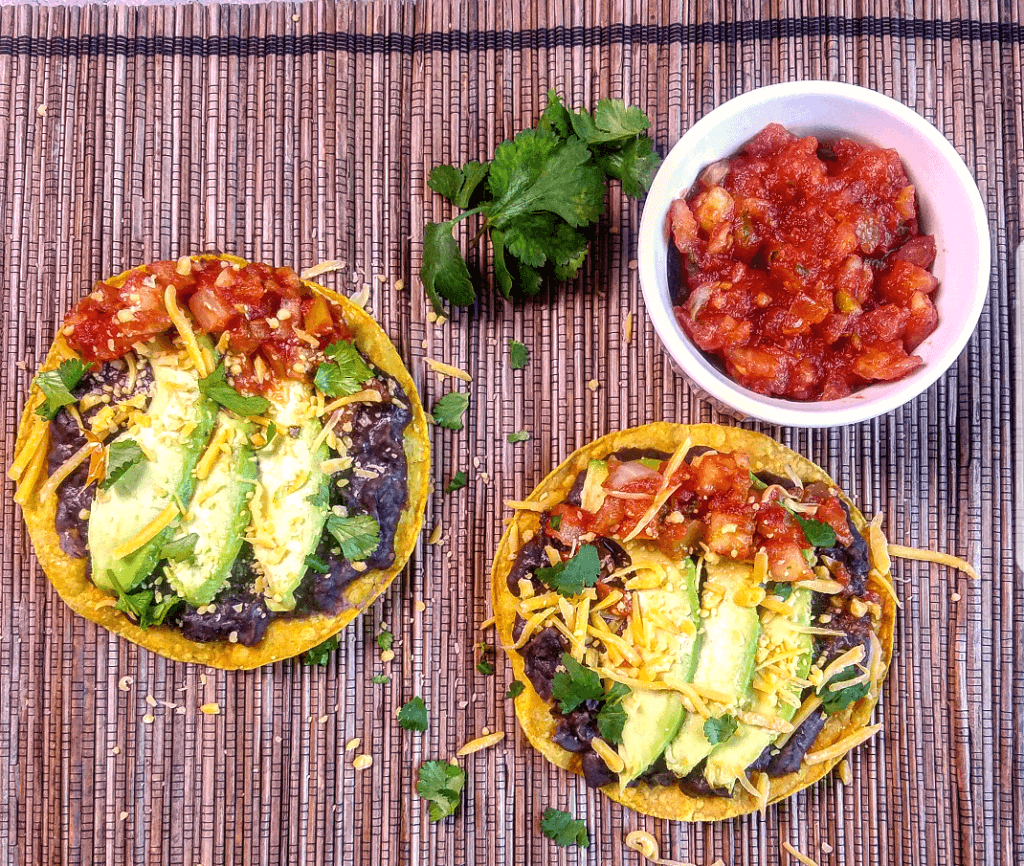 I've been trying to develop more vegetarian recipes lately. Not only does it end up being cheaper to eat vegetarian at least once a week, but it also means that I'm not just eating chicken all of the time. I want to try to take advantage of more zero point foods that aren't just meat.
You could definitely make these using canned fat-free refried beans, but if you haven't tried my Easiest Refried Beans, you must! As long as you have a slow cooker or Instant Pot, you can make an entire pound of beans without presoaking. It's much cheaper and less wasteful than buying canned beans, and I think they taste MUCH better than anything I've tried from a can.
As far at tortillas go, the best low-point option are the Mission Extra Thin Tortillas for only 1 SP each. I always have a pack in the refrigerator and can find them pretty easily at most of my local grocery stores.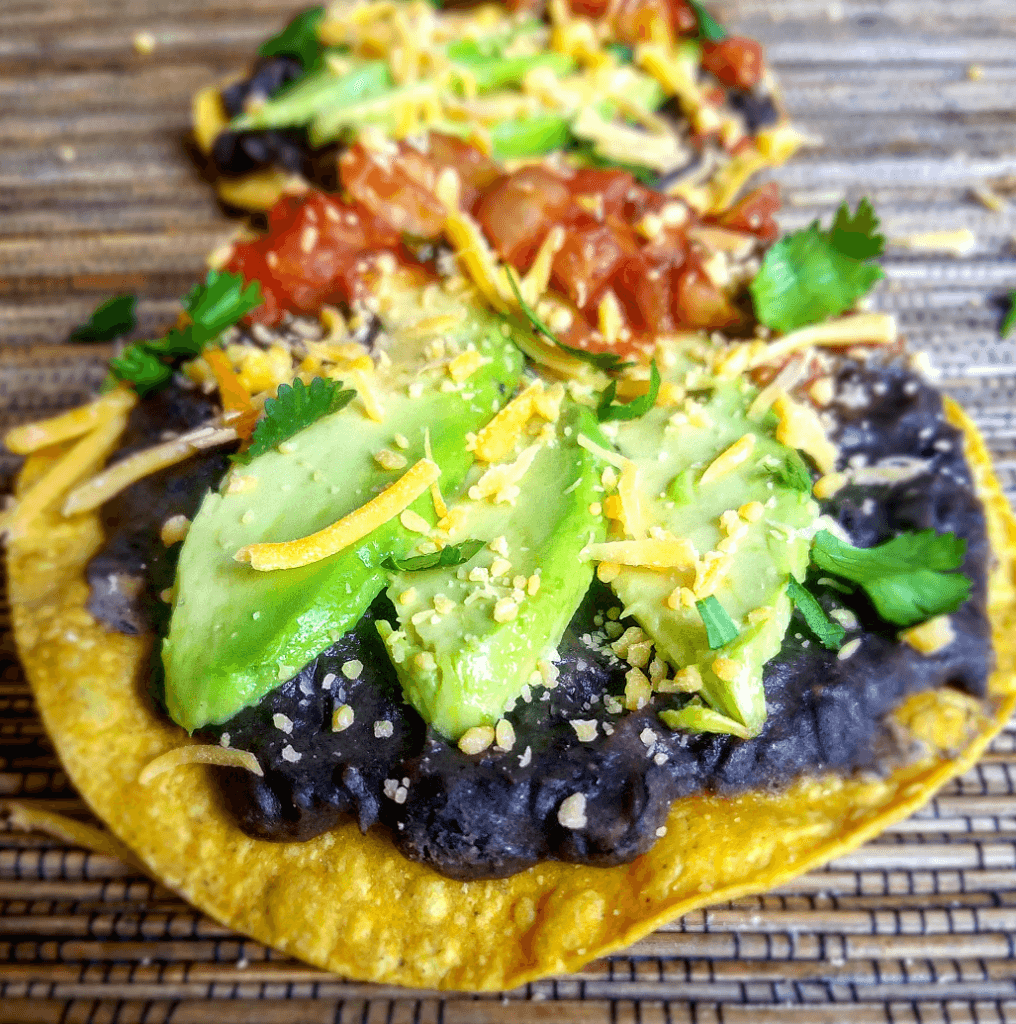 When I make this, I have 2 tostadas for 8 SmartPoints along with a roasted vegetable, like zucchini or asparagus. Sometimes I can't even finish the second tostada–that's how filling they are!
I'd love to hear from you if you make this recipe! It makes my day when you share your pics on Instagram and tag me (@litecravings). Don't forget to use #litecravingsrecipes to make sure I see it. If I don't get a chance to scroll through my tags quickly enough, I won't see your post. I always make a point to look through the hashtags, though. So I'll see it there!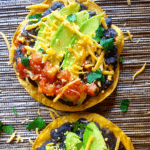 Print Recipe
Black Bean and Avocado Tostadas
A hearty, vegetarian spin on your average Taco Night.
Ingredients
Mission Extra Thin Tortillas

1/4

cup

refried black beans*

1/4

cup

sliced avocados

(1 oz, or about 1/4 of a medium hass)

1

tbsp

reduced fat sharp cheddar cheese
OPTIONAL 0 SmartPoint TOPPINGS
pico de gallo, cilantro, shredded lettuce, plain non fat greek yogurt
Instructions
Preheat oven to 400 degrees. On a cookie sheet, lay out as many torillas as you want to make into tostada shells. Spray each side of each tortilla with cooking spray. Lay on the sheet so they aren't touching.

Bake for 6 minutes, then flip and bake for another 6 minutes, or until just browned. Set aside. (This can be done the day before and stored in an air-tight container.)

When you're ready to eat, reheat beans. Spread 1/4 cup on a tostada shell.

Top with 1 oz sliced avocado (about 1/4 cup). Add any of the optional toppings to keep it at the same points.
Notes
WW Freestyle SmartPoints: 4 per tostada * I advise that you use my simple
0 SP Refried Bean
recipe